Blogs
Click Funnels vs. Lead Pages: What's best for driving conversions?
In the ever-competitive digital marketing space, driving traffic to your website and converting visitors to customers is the holy grail of online marketing. Two of the most effective tools on the market today are ClickFunnels and LeadPages, integral parts of the digital sales process and available tools to boost conversion rates, draw prospects, and turn prospects and leads into sales. Let's explore the two products:
ClickFunnels
ClickFunnels is a
sales funnel
software development program. Sales funnels are a series of pages that direct the user to your sales page, where customers can order your product. Sales funnels, as the name suggests, funnel the customer to the money page with a series of pages leading up to the final sale.
Along the way, sales funnels pages are collecting information, email addresses and demographics to add this individual to a list of leads for future sales and offering upsell options at every turn.
The
ClickFunnels
software program lets users design and build sales and marketing funnels.
Some of its most important features, according to the company, include:
Lead magnet page 

It's the first page of an agency's sales funnel. This page is specially designed to attract visitors and store their emails for further communication. It must be attractive and get the customers interested in the provided services. A sound strategy is to place a "lead magnet" on this page. A special offer, a discount or a freebie are usually chosen to be displayed on this page. To get access, the client must provide an email address. The trick is to offer something that will make the clients feel that purchasing the service will be useful.

Application form

 

Application forms are important for companies and help them determine if they can sell their services to the client. ClickFunnels allows companies to customize the questions and answers. There are templates in ClickFunnels to start creating a form, but it is all customizable and should be very specific to the information wanted to be collected. Users can create write-in answer fields or drop-down menus for visitors to choose from. It is recommended to have a form page consisting of at least 8-10 questions. The answers will provide more info about what services the potential client is looking for, their goals, what type of business they have, etc. After the info is gathered, the agency will know what strategy to adopt and how to seal a deal with the client.

Schedule page-

 This is necessary for companies that provide an on-site evaluation. For example, moving companies that require on-site inspection of the cargo. Or for companies who want to schedule a business meeting. This page should contain a calendar, to make the schedule easier. Additional features can be added, like an e-mail reminder.

Order confirmation page-

 

Having an order confirmation page allows the customer to feel confident that their sale went through and informs them about shipping information as well as a summary of the purchase made.
ClickFunnels can be used for any type of business. Many agencies are turning to this software to help their clients achieve their goals. Anything from selling physical and digital items, lead generation, consulting and more can be done through the Clickfunnels software with high conversion rates.
"Using Clickfunnels will help your business grow and considerably increase the number of clients. Everything is clean, customizable and tested, so you don't have to worry that you will work with faulty or low-quality products," said Russell Rabichev, marketing director of internet marketing for the company.
Sales funnels have four levels:
Awareness
: People start becoming aware of your products or services (e.g., people look for a solution to a problem and find it on your blog).
Interest
: Potential customers show an interest, perhaps subscribing to on email list.
Decision
: The point of decision when the customer decides to purchase.
Action
: When the potential customer converts to an actual customer.
Let's say the product is an online steaks and other meats service. The initial offer might be a free grilling tips guide. As the customer advances in the sales funnel, they receive offers for steaks and other meat products.
The marketing philosophy at work here is that as the customer proceeds through the sales funnel they are presented with multiple opportunities to buy and provide information.
Sales funnels can be as complex or simple as you design them.
Sales funnels offer some common features and functions:
Nurturing leads

Converting leads into customers

Upselling customers

Turning customers into affiliate marketers for your products

Payment gateways such as Taxamo

Supports third party processors to help track purchases
Sales funnels can bring in customers and turn those customers into repeat buyers. The goal of the click funnel is to build a list of repeat buyers, the lifeblood of any business and the foundation of an online business.
LeadPages 
LeadPages is a cloud-based landing page bulder that allows relative novices to build winning landing pages. 
LeadPages offers mobile responsiveness, drag and drop editors and incorporates specialized landing page software, analytics and online sales funnels.
Some of the top features of LeadPages, according to the company, include the following:
Access to over 100 LeadPage templates

Fashion landing pages

Pop-up forms

Ease of monitoring Return on Investment through its clear campaigns

SEO-friendly pages

Timed display triggers

Simple WordPress plugins

Exit intent

Free hosting on their subdomain

Double opt-in to generate leads from blog posts, articles, and on-page content
How LeadPages works
The core of the LeadPages system is the LeadPages Editor, where you can drag and drop text, symbols and images where you want them. You can also add widgets, like a countdown timer and checkout elements.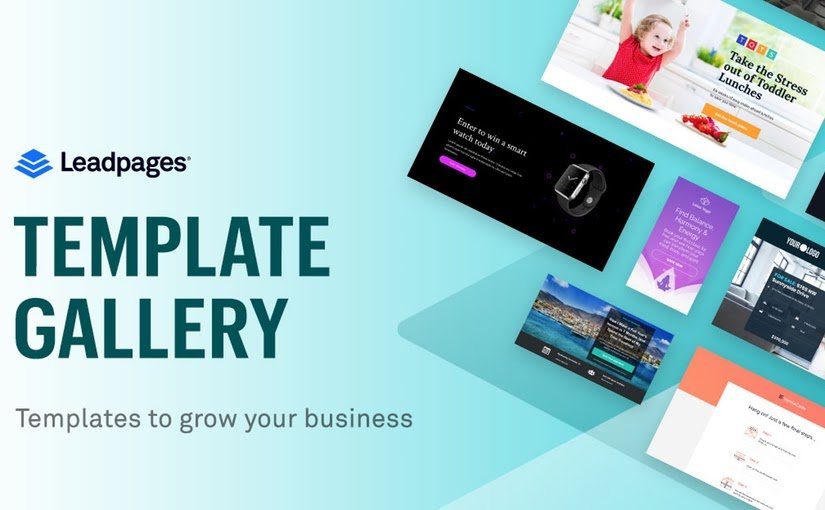 LeadPages offers a variety of templates that fit most company's needs.
Using the LeadBoxes feature, landing page designers can add pre-programmed pop-up options to show up during peak selling periods.
Remember, unlike a sales funnel, a
landing page
is a standalone, single web page that serves one of two purposes: Capture lead information or encourage potential customers to make a purchase.
The landing page is separate from the company's home page so it can focus on these singular tasks: capturing lead information or encouraging a sale.
Landing pages are independent from the home page where overall information, marketing, and branding strategies and a whole host of other information is presented. The landing page is elegant in its simplicity and functionality.
It's important to remember that the landing page is a final destination. You don't want the customer to go anywhere else, no links, CTAs, etc. This is where you close the deal.
Landing pages are a strong option for increasing conversion rates and lowering the cost of acquiring a lead or sale.
Successful landing pages meet the following six criteria:
   

They have a

defined target audience

– Any effective marketing enterprise is built upon a well-researched, clearly defined audience profile that encompasses demographics, buying habits, etc.

   

The landing page has a

journey map

– Journey mapping is a visualization of the process that a customer goes through to reach the point of conversion.

   

The landing page has a

singular purpose

– It is essential that landing pages remain focused on conversion and not be cluttered with additional information not directed to that purpose.

   

The page has

tracking codes

in place – Whether using Google Analytics or some other product, like

Facebook Tracking Pixel

, consider using a marketing automation platform for setting up and tracking your landing page's performance.

   

Navigation

of your landing page is clear and user-friendly. – Simplicity is the key. Customers should be able to easily navigate and make the purchase.

   

Marketing automation

or CRM is in place – Marketing automation platforms such as

HubSpot

, SharpSpring or Marketo allow you to automate marketing tasks such as emailing prospects, follow-ups after demos, appointment scheduling and other functions.
Conclusion
ClickFunnels and LeadPages are not competing tools, but complementary ones. Both ClickFunnels and LeadPages are essential elements in a lead generation strategy. They serve different purposes at different stages of the sales cycle. Both tools can and should be deployed in your digital marketing approach.