Blogs
Everything You Need to Know About a Positioning Statement
If you've been in business for any amount of time, it's likely you've heard terms like 'mission' and 'values.' In fact, your online business probably has a section dedicated to your company's mission and core values. But have you ever heard of a positioning statement? Unlike missions, values, and taglines, positioning statements are seemingly more rare in the online world. However, they are powerful and should be a part of your overall marketing plan no matter what industry you're in. In the online world, it's important potential customers be able to identify where your brand fits in. But the problem is, the internet is oversaturated with businesses in all niches, and standing out is tough to do. In fact, you'll notice that most online businesses are too vague in what they stand for and how they plan to help their customers. Because of this, today we're going to dive into what a positioning statement is. This way, you can set yourself apart from the competition, make it clear to customers what you stand for and how you plan to help them, and of course, grow your business. So, let's get started.
What is a Positioning Statement?
A positioning statement is a simple, concise description of a product or service that also mentions the target audience and how the product or service fulfills the needs of that target audience. It is not designed to be your company's public-facing tagline. Instead, it's an internal opinion about who you are as a company and what your overall goals are. It's also there to help align your marketing efforts with your company's value proposition,
which is a public-facing statement
that tells your customers how you plan to help them and why they should buy from you. Typically, positioning statements are one clear sentence. However, if your company is large and offers a lot of things to a lot of people, your positioning statement might have 2-3 sentences. That said, the most important part of a positioning statement is how you are different from the competition. It's not enough to say your products or services benefit people. All successful businesses can make that claim. Instead, a positioning statement should explain how you
uniquely solve your target audience's problem
. In other words, you have to show how you are distinctly better than all the alternatives out there. This is the way to
convert more customers and grow your business
.
Positioning Statement vs Value Proposition
Though a positioning statement and a value proposition do sound very similar, it's important to know the differences if you want to take advantage of both.
Value Proposition
A value proposition is a broad description of what sets your products or service apart from the competition. It gives people a big picture overview of how they stand to benefit from using your products or services. A good example of this is seen with
Basecamp
:
Basecamp is a comprehensive tool (
product
) that helps people work remotely (
target audience/benefit
). This description is on the homepage of Basecamp's website for all to see. It ensures that once people arrive, they immediately know what Basecamp can do for them.
Positioning Statement
A positioning statement is a focused statement that is developed once your value proposition is created. It identifies your target audience, differentiates your company from other similar businesses, and targets the primary customer benefits. Since positioning statements remain unseen by the public, I have created an example positioning statement that Basecamp might use to guide their marketing efforts using this template:
For [your target market] who [target market need], [your brand name] provides [main benefit that differentiates your offering from competitors] because [reason why target market should believe your differentiation statement.]
Here's the positioning statement:
For teams working remotely who need an all-in-one toolkit for handling things like communication, file sharing, spreadsheets, and meetings, Basecamp provides a project management platform that has all the tools you need to run your business remotely in one convenient location because it combines project management and internal communication into one.
The 4 Parts of a Positioning Statement
When it comes to creating a positioning statement, it's crucial you understand all 4 parts: target market, category, differentiation, and payoff. Let's take a closer look at each.
Target Market
Before ever creating a positioning statement (
or a value proposition for that matter
) you have to know who your company's target audience is. After all, there's no way to identify how your products or services benefit your customers if you don't know who your customers are. Here are some of the criteria you should consider when trying to pinpoint your ideal audience:
Age
Gender
Occupation
Geographical location
Income
Spending habits
Pain points
Needs and wants
And much more
Once you've collected all the information about your ideal customer base, it's time to create a buyer persona avatar. You can use a free tool called
Avatar Maker
to create avatars of your company's buyer persona(s):
Creating an avatar is really useful if your target audience is comprised of many types of people. In addition, you can use a neat tool called
Xtensio
to organize the information you collect about your target audience:
Creating a buyer persona and organizing your target audience's demographics will help you and your team with creating a positioning statement. It will also ensure your marketing efforts stay aligned with your company's core values.
Category
The next part of a positioning statement is the category or industry of your business. Prospective customers have to have some context when they are evaluating whether to buy your products or services. Some common categories include:
Website development
Automotive
Healthcare
Fashion
If your customers don't know which industry you're in, they are not going to be able to adequately evaluate whether your offer is worthwhile or not.
Differentiation  
In your positioning statement you must have one clear point of differentiation. In other words, you need to point out the one main reason you stand out from the rest of the competition. Of course, your company will likely have many points of differentiation. However, the goal is to identify the main one that will show potential customers how unique you are as a solution to their problem. In addition, it's important to be as specific as possible when it comes to setting yourself apart from others in the same industry or field. For example, stating that your company is the 'global leader' is weak and not very convincing. Everyone that runs a business, especially online, can make the claim they are the global leader –
whether they are or not
. Instead, you'll want to point out what you have that other don't that your customers will be interested in. Take for instance
Gusto
. Though there are many payroll platforms out there for businesses to choose from, Gusto makes sure to highlight what makes them different, which is the fact that they offer payroll and benefits in one.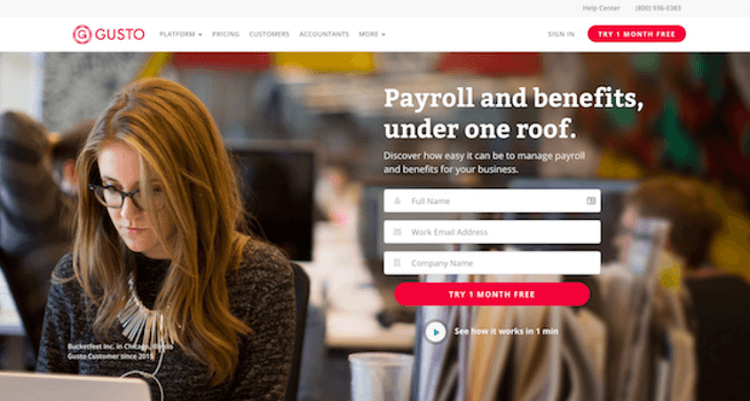 Of course, this is Gusto's public-facing tagline and part of their value proposition. However, you can bet the fact that they offer two, in-demand services in one is part of their positioning statement and drives all their marketing efforts.
Payoff
Lastly, the payoff portion of the positioning statement is how your point of differentiation meets the needs or wants of your target audience. This is why understanding your ideal audience and their pain points is so important. You have to be able to tell people how what you have to offer is not only going to solve their problem, but also how it's going to solve their problem better than anyone else in the same industry.
How to Create a Positioning Statement
There are many ways to create a positioning statement for your online business. If you're new to creating one, check out this template to get you started.
[Brand Name] provides (1)_____ with (2)_____ than any other [Your Industry]. We do this by (3)_______.
Here's an example:
Company A provides non-technical marketers with better web-based analytics software than any other software company. We do this by translating customer behavior metrics into actionable revenue metrics and guaranteeing a higher ROI within 6 months.
Here, we have the 4 parts of the positioning statement:
Target Audience – non-technical marketers
Category – analytics software
Differentiation – promising a higher ROI within 6 months' time
Payoff – businesses will experience more revenue after analyzing behavior analytics
Tips for Creating an Effective Positioning Statement
Here are some things to think about when you sit down to craft a positioning statement for your online business.
Be Brief: the goal is to create a positioning statement in no more than 3 sentences, though 1 is best.
Make it Distinct: dig deep and try to find that one unique thing no other company offers your target audience and capitalize on that to increase sales.
Stay True to Your Brand: never stray from your company's overall core values; consistency is the key to gaining and maintaining long-term customers.
Create a Credible Promise: never overpromise and fail to deliver unless you want your reputation to falter.
Allow for Growth: as your business grows and your products and services change, so will your positioning statement. Allow your statement to change with time.
Final Thoughts
In the end, your marketing strategies won't work if you're trying to be all things to all people. That's why, in order to succeed, you need to pinpoint exactly what your online business has to offer, who stands to benefit, and how it differs from the competition. Then, you need to put it all into one clear and concise statement that you can reference regularly to make sure every business decision you make aligns seamlessly. Consistent brand representation
increases revenue by up to 23%
. In other words, the more recognizable and understandable your brand is, the more money you stand to make. No matter what type of content your target audience comes across (
social media ads, blog posts, landing pages
), they should be able to understand your company's core values and brand –
instantly
. And there's no better way to ensure this happens than to use a well-crafted positioning statement to drive all your content. Are you in need of a way to wrap all your ideas into one and display it online for customers to see? If you need help with the design and development of your eCommerce website,
get in touch with Revealize
. We use a powerful platform, understand what it takes to build a solid online store, and can even help you with your company's positioning statement and site content, so you can achieve your dreams as an online industry leader.